Dowel Laminated Timber Design Guide & Profile Handbook
DowelLam™, as we call our proprietary Dowel Laminated Timber (DLT) panel, is a revolutionary mass timber product that provides a new level of versatility to architects and builders of timber structures.
Similar to CLT, DLT can be used for floor, wall and roof structures and is an alternative to traditional materials such as concrete and steel, yet with unique differences from other mass timber engineered wood products.
These solid wood panels use hardwood dowels to friction fit pre-milled boards together on edge, creating a panel which is particularly efficient for horizontal spans and allows for much architectural flexibility.
DowelLam™ (DLT) is the only all wood mass timber product – in concept, it involves no glue or nails. With no metal fasteners, DLT panels can be efficiently processed using CNC machinery, creating a high tolerance panel which can also contain pre-integrated acoustic materials, electrical conduits, and other service interfaces.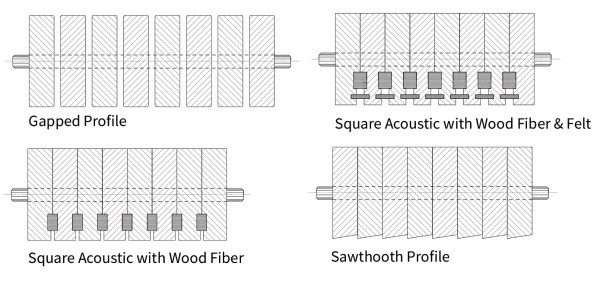 Unique to DowelLam™ (DLT) as a mass timber product, a wide variety of profiles can be integrated at little to no additional cost into the bottom surface of the panel. Each finger-jointed board goes through a molder, allowing a limitless range of different profiles to be explored and exposed in the bottom of a panel. This includes high-performing acoustic profiles using wood fiber insulation to absorb sound.
To better support designers, architects, and builders build beautiful and cost-efficient mass timber structures, we've put together two helpful resources: the DLT Design Guide and the DLT Profile Handbook. Download below.
Click here to download DowelLam™ (DLT) Design GuideDowelLam™ (DLT) Profile Handbook