Introducing Leif Johnson, Structural Engineering Director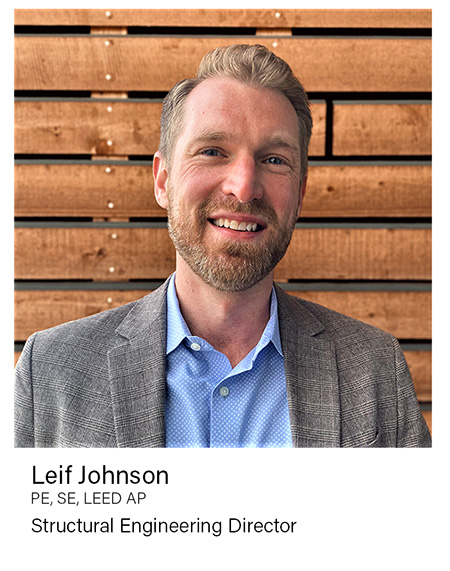 StructureCraft is delighted to be making two significant announcements, as our company continues to grow alongside the increase of interest in our structural engineering and timber construction services across North America.
Leif Johnson is joining our team as Structural Engineering Director, launching our new Seattle office.
"I've long admired StructureCraft's creativity and pioneering spirit. My first close impression of StructureCraft's outstanding work, and when I met Lucas Epp, was when we collaborated on the Minneapolis T3 project in 2016. With my passion for innovative structural engineering, I'm thrilled for the opportunity to join the StructureCraft team and help lead growth in the US, bringing our structural engineering expertise to bear on a diverse range of structure types. StructureCraft's unique capabilities as an engineer-builder of timber structures are grounded in collaboration and is an ideal model for the future of design and construction. I'm grateful and humbled to be a part of this vision."
– Leif Johnson, Structural Engineering Director
Introducing Leif Johnson
Leif is a licensed structural engineer with over 16 years of experience designing high-profile civic structures, museums and performing arts centers throughout the United States.
Prior to joining StructureCraft as Structural Engineering Director in May of 2021, Leif was a Principal at MKA in Seattle, where he also led MKA's Timber Technical Specialty Team.
He grew up in Iowa City, Iowa before attending Lawrence University in Wisconsin and Washington University in St. Louis where he obtained undergraduate degrees in Physics and Civil Engineering.
While at Washington University in St. Louis, he received his master's degree in Structural Engineering. Shortly after graduation and before moving to Seattle, Leif won the 2004 Skidmore, Owings and Merrill Structural Engineering Traveling Fellowship, where he toured Europe to study structures inspired by natural forms for his thesis "Nature as Inspiration: Tools for Structural Art".
His portfolio includes many high-profile structures, including Hines' T3 Projects, MoMA in San Francisco, The Perelman Center in New York, Nordic Museum in Seattle, and the Theodore Roosevelt Presidential Library in North Dakota.

Leif has always loved timber engineering, and he was recently recognized for his work in timber design when awarded one of the influential 40 under 40 professionals for Building, Design and Construction in 2018. Leif brings his consulting engineering experience and passion for timber to StructureCraft and is leading the new Seattle office, growing StructureCraft's work across the United States.
Leif's deep experience working on high-profile cultural projects such as museums and performing arts centers has helped him grow an expansive network of clients and expertise working with all materials and structure types.
Welcome to the team, Leif!

---
About StructureCraft's New Seattle Office
Our Seattle office provides consulting structural engineering services and supports both business development and our active projects across the US, fully integrated with our home office in Vancouver.
To leverage opportunities throughout the Pacific Northwest, Leif will be based in Seattle but will also maintain a regular presence in Portland. In addition, Leif will actively support clients throughout the United States.
The Seattle office is a key step in the continuing growth of StructureCraft and we are excited about adding members to the Seattle team. All levels of Structural engineers and Modelers/BIM are encouraged to apply.
See more at structurecraft.com/hiring.